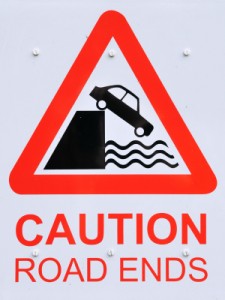 Back in 1992, after the Berlin Wall fell and communist states were toppled one after another, Francis Fukuyama authored and published a book entitled The End of History and The Last Man.  It received much press at the time for its bold and seemingly definitive statement (specifically that whole 'end of history' thing with the thesis that capitalist liberal democracy is that endpoint). The result was much press, discussion, discourse and theorizing and presumably a higher sales volume for a book that likely still graces many a bookshelf, binding still uncracked.  Now it's my turn to be bold.
Here it is:
With the advent and popularization of the smartphone, we are now at the end of custom personal consumer hardware.
That's it.  THE END OF HARDWARE.  Sure there will be form factor changes and maybe a few additional new hardware features but all of these changes will be incorporated in smartphone handsets as that platform.
Maybe I'm exaggerating – but only a little.  Really, there's not much more room for hardware innovation in the smartphone platform and as it is currently deployed, it contains the building blocks of any custom personal consumer device. Efforts are clearly being directed at gadgets to replace those cell phones.  That might be smart watches, wearable computers, tablets or even phablets. But these are really just changes in form not function.  Much like the evolution of the PC, it appears that mobile hardware has reached the point where the added value of hardware has become incremental and less valuable.  The true innovation is in the manner in which software can be used to connect resources and increase the actual or perceived power that platform.
In the PC world, faster and faster microprocessors were of marginal utility to the great majority of end-users who merely used their PCs for reading email or doing PowerPoint.  Bloated applications (of the sort that the folks at Microsoft seem so pleased to develop and distribute) didn't even benefit from faster processors as much as they did from cheaper memory and faster internet connections.  And now, we may be approaching that same place for mobile applications.  The value of some of these applications is becoming limited more by the availability of on-device resources like memory and faster internet connections through the cell provider rather than the actual hardware features of the handset.  Newer applications are more and more dependent on big data and other cloud-based resources.  The handset is merely a window into those data sets.  A presentation layer, if you will.  Other applications use the information collected locally from the device's sensors and hardware peripherals (geographical location, speed, direction, scanned images, sounds, etc.) in concert with cloud-based big data to provide services, entertainment and utilities.
In addition, and more significantly, we are seeing developing smartphone applications that use the phone's peripherals to directly interface to other local hardware (like PCs, projectors, RC toys,  headsets, etc.) to extend the functionality of those products.  Why buy a presentation remote when you get an app? Why buy a remote for your TV when you can get an app? Why buy a camera when you already have one on your phone? A compass? A flashlight? A GPS? An exercise monitor?
Any consumer-targeted handheld device need no longer develop an independent hardware platform.  You just develop an app to use the features of the handset that you need and deploy the app.  Perhaps additional special purpose sensor packs might be needed to augment the capabilities of the smartphone for specialized uses but any mass-market application can be fully realized using the handset as the existing base and few hours of coding.
And if you doubt that handset hardware development has plateaued  then consider the evolution of the Samsung Galaxy S3 to the Samsung Galaxy S4.  The key difference between the two devices is the processor capabilities and the camera resolution.  The bulk of the innovations are pure software related and could have been implemented as part of the Samsung Galaxy S3 itself without really modifying the hardware.  The differences between the iPhone 4s and the iPhone 5s were a faster processor, a better camera and a fingerprint sensor.  Judging from a completely unscientific survey of end-users that I know, the fingerprint sensor remains unused by most owners. An innovation that has no perceived value.
The economics of this thesis is clear.  If a consumer has already spent $600 or so on a smartphone and lives most of their life on it anyway and carries it with them everywhere, are you going to have better luck selling them a new gadget for $50-$250 (that they have to order, wait for learn how to use, get comfortable with and then carry around) or an app that they can buy for $2 and download and use in seconds – when they need it?
Tags:
Android
,
Apple
,
CPU
,
GPU
,
hardware
,
ideas
,
ipad
,
media
,
mobility
,
new
,
reinvent
,
revolutionary
,
risk
,
Software
,
Usability